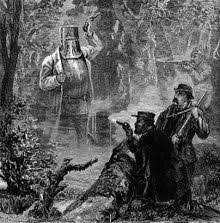 The Kelly Gang "declared war" in the Jerilderie Letter, and set themselves up for an armed and armoured confrontation with the authorities at Glenrowan, in Victoria's North East.  Plans did not progress as expected and after a 31 hour wait, the gang must instead confront large numbers of heavily armed police. 
We continue the exploration of Ned Kelly & the notorious Kelly Gang, from Victoria, in the 1870's. From the Bushranger theme.

(70 mins)
www.australianhistoriespodcast.com.au
Brilliant stories from Australia's past!
AHP Facebook                               AusHistPod Twitter